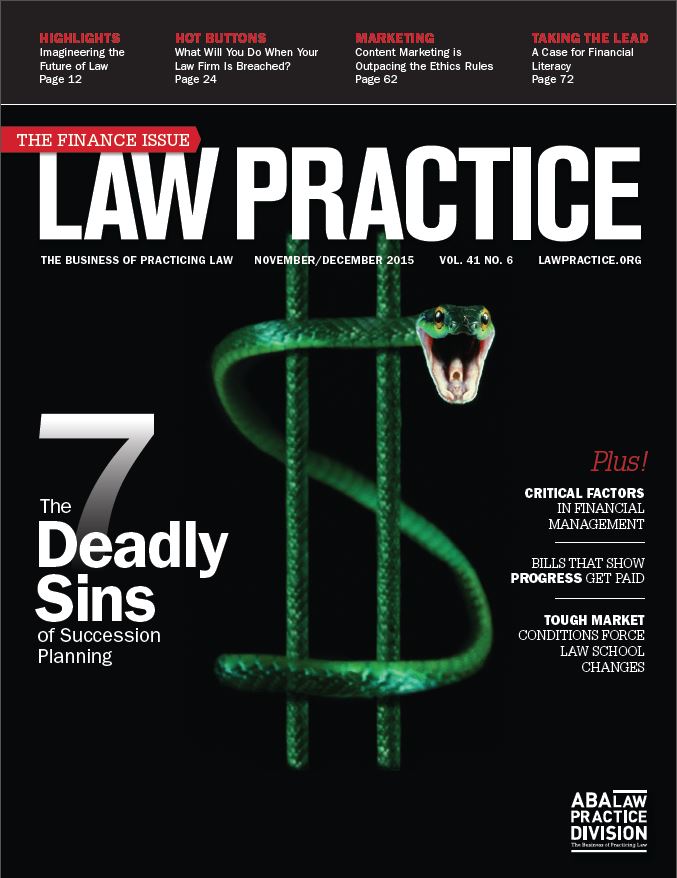 It was watching and reading news coverage from the aftermath of the deadly Amtrak crash in Philadelphia earlier this year that my marketing column topic came to light. Usually the theme finds me, and in this case, with each press conference, e-mail, press release and newspaper article–it occurred to me that Content Marketing is Outpacing the Ethics Rules (ABA's Law Practice magazine, November/December 2015).
You can put this column under "Marketing" or "Ethics." It works out well for my areas of focus. I spend the bulk of my time working with law firms on business development efforts. But I also maintain a niche ethics practice that only looks at marketing and advertising issues. Perhaps you will read this column and think of it as an ethics primer. Or you might read it and gain ideas and insight into marketing for a plaintiff's practice. Before submitting my final draft to the Law Practice editors, I decided that I needed some differing perspectives beyond my own. The result was some hefty editing based on those thoughts. You'll read some comments from the ethics attorney I myself turn to for advice, Tom Spahn of McGuireWoods. Some differing views came from my fellow LP columnist, Greg Siskind, who was focused on the value of content. A few unnamed ethics friends gave me some additional feedback and direction.
A number of pieces from The Philadelphia Inquirer's law firm beat writer Chris Mondics touched on many aspects of what I reference in his coverage of the Amtrak disaster–and the issues surrounding "the race for clients." The simple speed of selecting counsel in today's society–ramped up through social media and related technology tools–means that an attorney seeking a piece of this very lucrative pie needs to get moving fast. You might argue that your marketing needs to arrive before the actual matter at hand. The most successful lawyers in this space have figured out how to generate promotional opportunities without violating the Rules of Professional Conduct. If you are waiting for the dust to settle–as the 30-day moratorium was built to provide–you will find yourself a day late to the game.
If you have your own perspectives on the column, please shoot me an e-mail. I've already found that this piece has generated some interesting conversations. And I've already built my annual Pennsylvania Bar Institute ethics potpourri CLE for 2016 (delivered next April, August and December)–"The Race for Clients"–from this column.