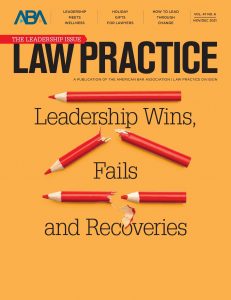 The third annual Up-Down Drill, which played off my favorite morning-after column in The Philadelphia Inquirer after an Eagles game (why did Jeff McLane stop doing it?), was one of the more difficult to write. In the November/December 2021 issue of Law Practice, The Law Marketing Up/Down Drill tackles relationship-building, lawyer ratings, webinars, social justice and getting back out in the real world for in-person business development.
It was especially difficult to write due to my failure to prognosticate exactly how COVID would play out since the first quarter of 2020. It is still hard to believe we're getting ready to hit the two year mark—and normalcy still seems to still be slightly in the rear view mirror (remembering that "objects are closer than they appear"). However, I finally got to go out and do my first in-person presentation last weekend—a law firm retreat in the DC area—in front of a crowd and without a mask over my mouth), so there is that. See my next LP column for more about the return of the law firm retreat.
Roaring back—hopefully—is true blue relationship building. While Zoom happy hours and wine tastings were quite the creation, the option of grabbing a drink or lunch or golfing has never looked so good. And as I've been counseling my law firm clients, strike while the iron is hot. People are not overbooked or over traveling yet—and are eager to accept the invites. That will not last forever. The "I'm way too busy to get together" will return in time.