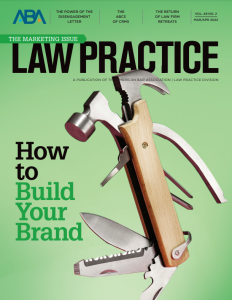 In that brief time snugly between delta and omicron, I had the opportunity to speak at a law firm retreat. Live. In-Person. With people. No masks. In a hotel. Food served. It was circa 2019 and it was so nice to put on a suit and close the Zoom app.  In the March/April 2022 issue of Law Practice, I discuss The Return of Law Firm Retreats.
An argument can be made that the law firm retreat in 2022 or 2023 will look and feel a lot different from those in the past. For a myriad of reasons:
Mergers and movement of attorneys and practice groups did not stop over the last few years, meaning there are lots of people at your law firm that you've never actually met before. The retreat becomes the perfect venue for getting acquainted.