Last night, my five year old son asked me what the "f" word was. While dancing around the answer, my nine year old daughter suggested she knew it and was pretty sure she had heard it from me. I won't lie to you. I've used it from time to time. I'm sure while sitting in Lincoln Financial Field for the last nine Philadelphia Eagles home losses in a row, I've used it 10-10,000 times. But never online.

However, when Reed Smith real estate partner Steven Regan cursed at SCOTUS on Twitter, the story became a Reed Smith partner cursing on Twitter. It was not really about Steve. He quickly deleted his Twitter account, and if the firm functions like most big law firms I work with on these issues, he was probably met with a much more private profanity from some of his partners in management. If they were one of my clients for social media compliance, I might have actually said, "Steve, WTF!"
Unlike much of the work I do in making sure a law firm's marketing efforts are compliant with the rules of professional conduct and the states in which they practice/market, this is not an ethics violation (although I did find one here, which I'll point out in a moment). This is just bad publicity. Public relations crisis management. You simply don't want people thinking your law firm does not know how to properly use social media. Especially a firm like Reed Smith, which has a significant media and advertising practice.
I had the privilege yesterday of addressing nearly 5,000 attorneys in an ABA CLE webinar on ethics issues relating to lawyer ratings, rankings and reviews. It was interesting that many of the questions in the Q&A revolved around what an attorney can and can't do on LinkedIn–focusing on areas such as specialization, recommendations, testimonials and endorsements. Unlike technology such as blogs, states have been much quicker to start recognizing that social media needs rules, opinions and guidelines quickly. I started teaching law firms about social media in 2003 (10 years ago), before anyone was thinking about Twitter, Facebook or LinkedIn. At that time, I had an account on MySpace. It is a powerful environment that falls into many gray areas–personal versus private, advertising and marketing, business or family. The complicated mix makes compliance and staying out of hot water even tougher. Yet, it is too big an arena not to be engaged. It is important to understand the sites, your state bar rules and how it plays at your law firm.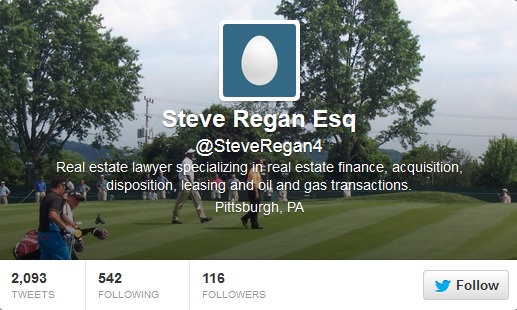 Just to point out the small ethics misstep in Steve's Twitter description…the use of "specializes in"… a no-no in most states and most instances. I did note that his description does not identify his employer–which is a good thing–although, as everyone learned…that did not really matter, did it?