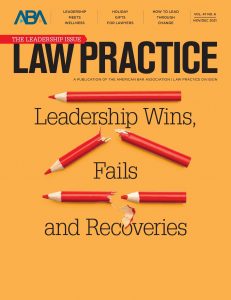 The third annual Up-Down Drill, which played off my favorite morning-after column in The Philadelphia Inquirer after an Eagles game (why did Jeff McLane stop doing it?), was one of the more difficult to write. In the November/December 2021 issue of Law Practice, The Law Marketing Up/Down Drill tackles relationship-building, lawyer ratings, webinars, social justice and getting back out in the real world for in-person business development.
It was especially difficult to write due to my failure to prognosticate exactly how COVID would play out since the first quarter of 2020. It is still hard to believe we're getting ready to hit the two year mark—and normalcy still seems to still be slightly in the rear view mirror (remembering that "objects are closer than they appear"). However, I finally got to go out and do my first in-person presentation last weekend—a law firm retreat in the DC area—in front of a crowd and without a mask over my mouth), so there is that. See my next LP column for more about the return of the law firm retreat.
Roaring back—hopefully—is true blue relationship building. While Zoom happy hours and wine tastings were quite the creation, the option of grabbing a drink or lunch or golfing has never looked so good. And as I've been counseling my law firm clients, strike while the iron is hot. People are not overbooked or over traveling yet—and are eager to accept the invites. That will not last forever. The "I'm way too busy to get together" will return in time.
In the meantime, law firm rankings and ratings seemed rather pandemic proof. Supply chain issues did not impact the plaque making business. This industry never stops growing. And loss of ego was not a symptom—but looking at some of the mom-and-pop accolades readily accepted, the loss of taste does sometimes come into play. Either way, despite empty threats from various peanut galleries, we love our awards. And tout them considerably. If you are lawyer without a descriptive adjective to highlight, you just did not try.
The increase in webinars, however, may not go away. Anything "digital marketing" or "content marketing" is thriving. You just can't beat tuning in to your desktop for an employment law update rather than trapse out to a law firm breakfast briefing. This might hurt the Panera bagel and pastry business, but we didn't really need those calories anyway.
Perhaps my favorite topic in marketing communications over the last two years has been the difficult balancing act of taking a stand. I'm not sure we've ever felt the need (or the heat) to verbalize support for a host of social justice issues in an official manner. But "silence" is not a good look. And law firms have often had to see-something-and-say-something even if it was a bit uncomfortable.
Finally, not given a thumbs up or thumbs down, but a "sideways" symbol is the concept of getting back out there. I had the pleasure of doing just that in Q4 of 2021—business meeting travel to true "hot spots"—Florida and Texas among them—for the first time in a long time. I for one could not take another virtual conference (or even a hybrid version). So here is to Q1 of 2022—where I'm hoping meetings like ABA Midyear in Seattle or NAMWOLF in San Antonio are live and in-person. But if I've learned nothing, it is…who knows? But looking forward to seeing you back out there.