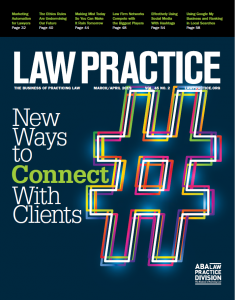 I read many articles on the morning after an Eagles win in my local newspaper, The Philadelphia Inquirer. On the day after a loss, I read a few less—but win or lose, I enjoy the Up/Down drill that points out the highs and the lows with a thumbs-up, thumbs-down, or simply two thumbs going sideways. So I thought I could copy the concept in what I plan on having as an annual column, The Law Marketing Up/Down Drill in the March/April 2019 issue of the ABA Law Practice Magazine.
For my column, the beauty of the up/down drill is that it allows me to cover a myriad of hot topics and areas of interest in law firm marketing circles—rather than just focusing on one. You'll need to click over to the column above for the detail, but here is a synopsis of the subject matter addressed. You may not agree with my opinion or perspective on all of them. I'd love to hear from you.
Online Reviews
If you asked me about a topic that had minimal impact just a few years ago, yet is a major consideration today, I'd say the world of online reviews has taken on a life of its own. It is driven by a combination of factors. First, the availability of reviews is now often highlighted on a Google organic search result. And who can help themselves when seeing there is a review or two, or two hundred to peruse? In addition, for the end-user, the review is now another "check the box" item in doing due diligence. Some flow through pure consumer driven sites like Google, Yelp or Facebook. Other reviews flow through legal-specific ones like Avvo. For some practitioners, it is something to be aware of. For those in a competitive, online (consumer-driven) space, playing the review game is imperative.
Budgeting
If I've sat opposite you at a conference room table in your law firm, you've heard me say it, "the better the budget, the better the marketing plan." I didn't say the bigger the budget, just the more tuned and refined. You've also heard me push back on impulse buys by opining that we can't do it because it is not in the budget. For the most part no budget typically equals minimal strategy.
Lost Market Share
There are many things at play here, but law firms have struggled with lost market share for the last 5-25 years. Often, it is a niche practice. Other times, it is due to geography. But it is one area I often point to with attorneys that once felt like they had the market cornered and now are finding themselves in a struggle to survive…technology, geography, consolidation…all play into it. And marketing is often the way to protect what once was yours.
Ethical Considerations
Besides reading my column, you can attend the ABA CLE webinar, Ethics Dos-and Don'ts for Lawyer Marketing & Advertising in 2019, at 1 pm EDT on April 16, 2019. In this one-hour ethics CLE, you'll learn about recent changes to the model rules and related topics of interest. You'll hear from an expert panel of ethics attorneys with different perspectives (me being one of them).
Staffing
I've helped law firms staff roles from Chief Marketing Officers to marketing coordinators for more than 20 years. Obviously, when I'm running a search, it gets done right (although even the best of us don't bat 1.000 when it comes to hiring). But for many firms, figuring out what they need, who to hire and how much to pay should be further along than it is.
Constantly Contacting
In a world of content marketing, overuse and abuse of e-mail continues to plague many. Just know this, when someone "unsubscribes" because you pissed them off, they are never coming back. So protect your contact list and make sure your stuff is truly substantive.
Content Marketing
It is one of the great buzz terms in marketing today—legal profession or otherwise—and the question often asked is whether or not it is "advertising" or "editorial." The answer is a mix. Finding the right balance is the key.
Virtual Law Practices
VLPs mean many things to many people, but the ability to forgo bricks-and-mortar is a positive trend that keeps growing.
I finish off the Drill with "The State of Law Firm Marketing." Spoiler alert if you have not clicked over to the column yet, but it gets the sideways thumb. I've seen a lot since first walking into a law firm to discuss marketing in 1996—and believe me, it is improved, better and more sophisticated. But I'd hope by now it is would be even more so. But like many of the other components of a law firm management operation, change is still a necessity for most. We'll see what next years' drill has to offer?