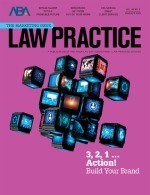 In my March/April 2023 marketing column in the American Bar Association's Law Practice Magazine, I address the pros and cons of organizational involvement in Guilt by Associations.
It should come as no surprise that I tout my ABA involvement as a core component of my own business development strategy. At some point, I decided I was going to go "all in" on ABA activity—and it has been beneficial on so many fronts. For me, as an attorney, I wanted to network with other lawyers. And because my own business and practice is national in scope, a broader-based organization made more sense. As a bonus, many of my closest friends today are people I met through ABA activity.
Now my home for most of the last 20+ years of ABA membership has been the Law Practice Division. But choosing the right places to hang your hat have a lot of variables—geography, practice type, cost, ability to travel, ability to meet on nights or weekends, ability to build a referral network, exposure through writing or speaking, and opportunities to be a leader. Are you an introvert or extrovert? Who else is active in the organization? The thinking should go well beyond, "I live in Chicago. I should join the Chicago Bar Association." Or "I'm an IP lawyer, I should go to INTA." It might involve a women's initiative, or something outside the scope of legal, like a House of Worship or Museum group. Some of the wisest moves in organizational involvement is to sit on a board with huge potential clients on the left and right of you—but in a completely non-work, non-legal setting.