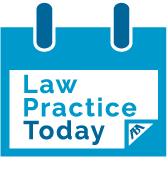 Perhaps it is sad to think that customer or client service has gotten so bad of late that highlighting those that do it well should not be necessary, but it is. So many companies send us off to automated web and voice mail systems, force us to chat with folks half way around the globe that can't speak the language too well and are flummoxed when forced off script, or in some cases show they simply don't care. Where I live, Comcast's monopoly means that no matter what happens I'm still a customer. When disgruntled with some experiences on Priceline, I simply took my business elsewhere. And in most cases, law firm clients can choose to do the same.
So when the service you receive is particularly personalized, attentive and caring, you practically go into shock. In serving as an issue editor for the Marketing-themed April 2016 edition of Law Practice Today (LPT), I contributed a feature story on Client Retention–It's All in the Listening, which reminds us attorneys just how simple it can be to provide the type of client service that is both memorable and ensures repeat business. Taking some of my favorite personal recent examples–Kimpton's Monaco chain for hotel travel, my long-time dentist Dr. Robert Marchinek, and two of the top Philadelphia restaurants in Bibou and Helm, I show how some simple listening and responsiveness goes much further than any sophisticated business development game plan can. It is all in the listening. See where you might fall in comparison to knowing the "personal" side of your clients.
With nearly 18 features and columns, the marketing issue of LPT is full of great ideas. In gathering articles for the issue, I thought about what I wanted to hear about and from whom. So I hit up some of the leading experts in the business to teach me something.