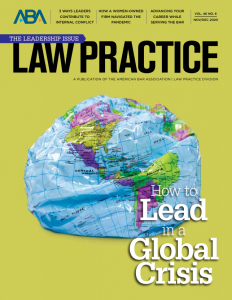 A favorite business development endeavor for many lawyers (me included) is involvement on a nonprofit board. It can be time-consuming, potentially expensive and sometimes frustrating, but it is a do-good activity that ideally is tied to an area of interest and passion. In my November/December 2020 marketing column in Law Practice, I write on Profiting from Nonprofit Board Involvement.
The heart of my column comes from conversations with leaders of BoardAssist, a nonprofit itself that matches prospective board members with nonprofits in the New York metropolitan area (including New Jersey and Connecticut). Cynthia Remec, the executive director and founder of BoardAssist, is a former attorney who started her career at Pillsbury Winthrop and Weil Gotshal. I also received valuable input from Richard Hall, a partner at Cravath, Swaine & Moore, and a longtime member of its board of directors.
Like many aspects of our lives, nonprofits are reeling in the midst of a pandemic where time, money and resources are hard to come by. For board members, there is the teeny, tiny silver lining of being able to conduct most of these meetings from the comfort of home. However, that in-person human interaction is lost. And I've heard a number of people lament that they miss the free snacks at meetings. I, myself, will trade sitting at home in sweats and buying a box of munchkins out of pocket. But, seriously, it is true that removing the travel element (sometimes involving getting on a plane) can make donating your time simpler and easier. Bottom line—nonprofits need us to step up now, more than ever.