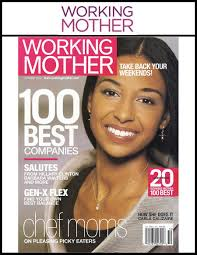 Perhaps this post is just an excuse to brag about my wife, Ivy Brown, who was recently honored as a Working Mother of the Year in the advertising industry by Working Mothers Magazine and the Advertising Women of New York.
The event itself was pretty remarkable. There were more than 750 attendees in the grand ballroom of the Marriott Marquis in New York City. The tables were a who's-who of leadership from blue chip companies–from Johnson & Johnson and Comcast to Facebook and Sony. The commissioner of the National Basketball Association was at the NBA table, honoring a working mom from his organization.
A highlight was definitely watching the short video our kids put together to commemorate the occasion. They were asked the question, "what do you like to do with your Mom?" Lily, 9, scripted out the video with her brother Benjamin, 5. They put notes on a white board and had me videotape it (with an iPad) until they approved the final version (14 takes later). Talk about marketing. Besides the big screen at the awards, this video has appeared everywhere, from internal company newsletters to social media and in their classrooms at Moorestown Friends School. Lily's performance earned her the gig of making the "lunch is served" announcement at the awards program (where she quickly memorized the cue card and showed no fear in standing on the stage in front of the crowd).
 
https://www.youtube.com/watch?v=NY6fuNXfdvY
 
In watching the event, from the initial announcement of honorees through the luncheon itself and the promotion after, I marveled at the marketing value tied to it. In our age of two-working-parent households, millennial "philosophies" and societal changes in attitude toward who works in a family and how a company handles it, there is a lot to learn from this program.
With increased pressure from corporate America to make sure your workforce is diverse, many law firms have found attracting viable candidates difficult. Again, looking at it purely through marketing eyes, you see the heavily promoted women's initiatives, diversity efforts and paternity policies splashed across websites and brochures. The goal is twofold–to attract diverse lawyers and to show your corporate clients that you care about it. Reality, in some instances, might be another story. But, hey, if we do a good job marketing it…that's not my problem.
With the Working Mothers' honor, my wife received recognition internally (promoted within J&J), externally (through PR) and everywhere from her school to friends and acquaintances on Facebook. I had the chance to put faces to names at the luncheon. She gets positive promotion that will ideally positively impact her career down the road. J&J gets positive promotion as a company that does not just sell products to Moms but creates an atmosphere and culture in the workplace conducive to working hard and successfully raising a family. The kids get to see Mom honored at a huge event (although skipping school was easily a benefit as well). The parents and in-laws get to attend. And the husband takes photos, smiles and writes a blog post about it. In recognizing work-life balance, everybody wins.
The Working Mothers were divided into three categories. Congratulations to all the Moms that work with the Dads and their respective employers to achieve work-life balance:
TRAILBLAZER MOMS
Claudia Strauss: CEO, Grey Activation & PR, Grey New York Barbara Ross Miller: VP, Consumer Marketing Solutions Group, Sony Electronics Marjorie Porter: EVP, Brand Agency Leader, Publicis Kaplan Thaler
ESTABLISHED MOMS
Linda Gharib: SVP, Digital Marketing, Head of Cross-Channel Initiatives, Citi Stacey Larson: Managing Director, National TV Investments, OMD Dawn Matson: Director of Media Planning, Kohl's Dept Stores Cheryl Guerin: EVP/Group Executive, US Marketing, MasterCard Worldwide Val DiFebo: CEO, Deutsch New York Joy Schwartz: President, Havas Worldwide Chicago Gina Hughes: SVP Marketing, AMC Ivy Brown: Senior Marketing Director, Global Brand Management, Johnson & Johnson Vision Care
Jeanne Boland: SVP, Director of Client Services, Local Media, BPN Eileen Diskin: VP, Marketing Communications and Strategy, Comcast
NEW TO MOTHERHOOD MOMS
Rachel Cohn: Americas Lead, Global Partnerships, Facebook Erin Quintana: SVP, Business Partner, J3
Rachel Jacobson: SVP, Global Marketing Partnerships, National Basketball Association Christi Woodworth: Director of Digital Communications & Social Media, Sonic Drive-in Monika Grabania-Dailerian: Group Director, Strategic Planning, Mindshare Ritu Trivedi: Managing Director of Digital Marketplace, Mediavest Kelly Wenzel: CMO, Centro