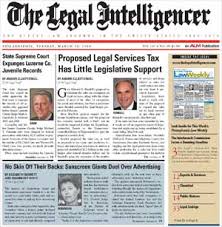 When I chatted with The Legal Intelligencer's Lizzy McLellan about Small Firms Look to Attract Middle Class With Flat Rates (TLI, May 6, 2016), she asked me about a law firms' initiative that touted (in a press release) an original and unique attempt to target the middle class through the firm's website. Unfortunately, I may have burst her (and that firms') bubble when I said there was little unique about the website offering and less original about using the Internet to target this massive potential audience.
But it did get us talking about how much of a role the Internet has played in providing legal services options to middle-income individuals and families when it comes to estate planning purposes and related consumer-driven practice areas. I also noted that services from entities such as LegalZoom, Rocket Lawyer and Avvo often were competing with them, although in many instances, they are funneling work back to the same lawyers through various marketing initiatives.
For law firms, success on the web is driven by the power and credibility of their websites, paired with a combination of organic search results and paid online advertising–often a combination of both. But you can expect to spend on quality Search Engine Optimization (SEO) to win the battle of reaching your target audience. Make no mistake, I sit with law firms that are only targeting high wealth or possibly only targeting low wealth (more about quantity in numbers than quality of a matter).
Law firm marketing consultant Micah Buchdahl said if he were a solo practitioner or small general practice, he might be concerned about the competition
"It's a much more crowded playing field," Buchdahl said. "The question is if you live in Blue Bell, are you going to go out there and look for an attorney in Blue Bell … or are you just looking for the ¬lowest cost option?"
McLellan's article cites an offering from the Freiwald Law firm, called Community Legal Advisors, offering estate planning, health care planning and elder care planning services at flat rates. The reality is that having a website in a consumer-driven practice does not do much but offer confirmation from people that already have your name. Using the least competitive of offerings from its Community Legal Advisors list, "Philadelphia Advance Healthcare Directive Law Firm" did not bring them up at all on a Google paid or organic search (or at least the first three pages, which is all that really matters). And whether the use of "Community Legal Advisors" is an RPC ethics violation is a question for another day–in use of "trade names," implying that it is potentially a non-profit or government entity is a no-no.
Making price lists easily accessible can help firms to compete with other services that market to middle-income clients, Buchdahl said, because a number of those clients are going to shop for the best price.
"I think when you're looking at these types of matters, the key is to generate volume, so you need to structure that in a way that generates volume," Buchdahl said.

Yes, if you are going to offer a menu of low, fixed fees, you are probably relying on volume. If you are relying on volume, you need to increase online exposure. Let's face it, in consumer circles, the middle market is probably the largest and most attainable via Internet efforts. The high end has counsel. The low end is looking for free to close to free (if possible). Get your data in order and decide how you are best going to reach your target.