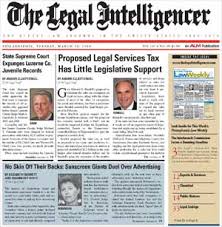 When I chatted with The Legal Intelligencer's Lizzy McLellan about Small Firms Look to Attract Middle Class With Flat Rates (TLI, May 6, 2016), she asked me about a law firms' initiative that touted (in a press release) an original and unique attempt to target the middle class through the firm's website. Unfortunately, I may have burst her (and that firms') bubble when I said there was little unique about the website offering and less original about using the Internet to target this massive potential audience.
But it did get us talking about how much of a role the Internet has played in providing legal services options to middle-income individuals and families when it comes to estate planning purposes and related consumer-driven practice areas. I also noted that services from entities such as LegalZoom, Rocket Lawyer and Avvo often were competing with them, although in many instances, they are funneling work back to the same lawyers through various marketing initiatives.
For law firms, success on the web is driven by the power and credibility of their websites, paired with a combination of organic search results and paid online advertising–often a combination of both. But you can expect to spend on quality Search Engine Optimization (SEO) to win the battle of reaching your target audience. Make no mistake, I sit with law firms that are only targeting high wealth or possibly only targeting low wealth (more about quantity in numbers than quality of a matter).