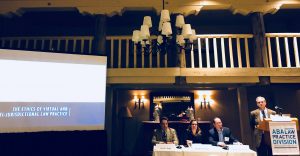 Recently, I had the privilege of serving on a panel at the American Bar Association's Law Practice Division continuing legal education program on the ethics of virtual and multi-jurisdictional lawyering in Santa Fe, New Mexico. The program was co-sponsored by the State Bar of New Mexico, and took place on May 18, 2018 at the Inn and Spa at Loretto.
Moderated by Albuquerque-based practitioner Charles Gurd, panelists included fellow Philadelphia area attorney Dan Siegel, and Charity Anastasio, Associate Practice Management Advisor at the American Immigration Lawyers Association. It struck me that the audience interest, interaction and participation were greater than in the vast majority of CLEs that I teach. These two intertwining and overlapping issues—virtual law practices and multi-state jurisdictional issues—go hand in hand, and often create as many questions as answers.
When I'm driving down I-95 and leave New Jersey to cross into Delaware, I know it. When I then cross from Delaware into Maryland, I know it as well. I also know that if I'm caught speeding in Delaware, the only police I need to worry about are the ones with Delaware on the side panels. Of course, reciprocity when it comes to fines and points are sometimes blurry, but not nearly as confusing as crossing state lines in your law practice, typically on the Internet. However, as many of the CLE audience opined, most lawyers today have practices that are not confined to one or two states.