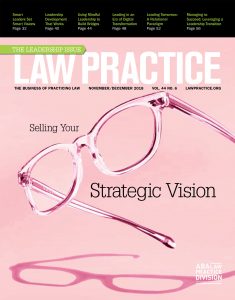 Perhaps life has really been about search all along. We search for the right job, the right spouse, the right schools, the right restaurants, pretty much the right everything. So Google has either made searching easier, or harder, depending on how you look at it.
In today's legal marketplace, as lawyers, we want to make sure that we can be found by those doing the searching. What complicates things for people like me in the "law marketing biz" is that the methods, tools, tricks and rules keep changing—those pesky algorithms—meaning that you need some sort of online PhD to keep your law firm clients on track, so they can be found by their prospective clients. So it made sense for me to address this fluid subject matter in my November/December 2018 ABA Law Practice Magazine column, In Search of…Lawyers and Clients (For 2019 and Beyond).
As is the case with most of my marketing columns, the topic finds me. Every day, I'm working and talking with different attorneys at different law firms in different parts of the country—and whatever topic comes up the most is often my next column. A few conversations on the most effective search mechanisms left my head spinning. I'm not going to lie about it either. I had no idea what newsjacking or hyperlocalization or geo-fencing was. I did not know all the nuances of what could and could not go into various forms of Facebook advertising. And focusing on things like "snippets" in Google definitely helped me steer some of my law firms in the right direction.