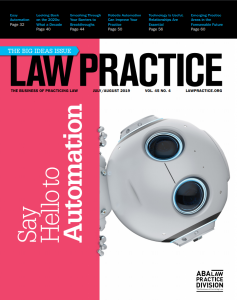 In the nearly 20 years that I've run my law marketing consultancy, HTMLawyers, there are few things I enjoy more than the in-person pitch. For me, those pitches are always at law firms, and often are delivered to a variety of audiences—a few select attorneys, a management committee, or marketing committee. But I always feel like if I have the opportunity to describe my services and offerings "live" that I have a great chance of getting the business.
Of course, I also find from time to time that those opportunities are not real. Some firms are just looking for free advice, others are looking to get a better price out of their current providers, and some really have no idea what they are looking for (but it is not what I'm selling). While I never hesitate to spend out-of-pocket travel and time on a pitch invite that sounds viable, I still feel a bit deflated when I quickly realize I was wasting my time. But that goes with the territory. On the flip side, there are pitches that I thought were a waste of time and turned out to be quite lucrative. Yet others did not pay off at that moment in time, but many years later. In some cases, declining the invite–which I did not too long ago from an Am Law 200 law firm—can be the smartest move yet. You just know it is a loser. So you don't waste your billable time and money on something that was not going to be profitable.
Just this week I was preparing one of my law firm clients for a huge pitch opportunity at a Fortune 100 company. In reviewing the correspondence between the in-house legal department and the law firm, I was as excited about it as if it was me doing the pitching. Because I know that getting in the door to sit down with corporate counsel and pitch a law firms' services is as good as it gets in business development. Yet I continue to be amazed how many law firms blow it…and that is the subject for my marketing column in the July/August 2019 issue of the ABA Law Practice Magazine, Wild Pitches: Law Firms Often Miss the Strike Zone.