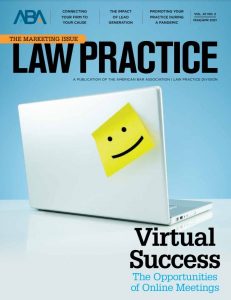 Earlier this week, I read an interesting article about how business travel will never fully return, because you can just go on Zoom, saving a ton of time and money. The story and premise all made sense until a quote at the end saying that the first time someone lost a sales pitch to a competitor that presented in-person—they'll be right back on those airplanes. And I shook my head knowing that was so true.
Zoom fatigue is very real. Many of us have slowly chopped down on screen time whenever possible. However, when you really think, imagine life without it the last year? At least we see each other's faces. What if the whole year was just thousands of hours of faceless conference calls?
Most of my phone and videoconferencing meetings with attorneys and law firms these last 13 months or so have revolved around the topic of my marketing column in the March/April 2021 issue of Law Practice, Replacing Face-to-Face in Business Development. While the subject of virtual online meetings is already old and stale (if you have not figured it out by now, nobody can help you), unfortunately we are still living a life of staying relevant and visible without the fun part of business networking—lunches, conferences, social outings—all those things that in the end really seal the deal for new business, winning business, referrals and references. I hope this column is soon very outdated (I'd like it to be laughable), but the timeline I give out about resuming face-to-face is a moving needle. So we still need to approach much of 2021 like we did most of 2020. Having said that, I'm scheduled to get dose one of the vaccine this week—and with it you start to think a little more wide-eyed about the people you can see and the places you can go. My calendar now shows some very possible business and conference travel in Q4. You can only hope.